An
EXCLUSIVE
interview with
SUZI QUATRO
Fifty years ago, The Beatles conquered America and the entire country was mesmerized by the four mop-tops from Liverpool, England. Shortly thereafter, the U.S. opened its loving arms and embraced the British Invasion. In Detroit, Michigan, a teenaged girl by the name of Patti Quatro was inspired to form The Pleasure Seekers, an all-girl band featuring her sisters Arlene and Suzi, who was then just fourteen years old. Two years later, in 1966, the band cut their debut single followed two years later by their second. By 1969, Arlene had been replaced by another Quatro sister, Nancy, and they changed their name to Cradle. Though each member of the Quatro family was extremely talented, Suzi's no-bullshit Rock 'n' Roll stance caught the attention of British producer Mickie Most, who had been persuaded to see Cradle by the girls' brother, Michael. Mickie was in search of a bona-fide female rocker for his label and Suzi fit the bill. In 1971, Suzi moved from Detroit to England and began working with Most on her first solo recordings. The first single released by Suzi, "Rolling Stone," didn't make an impression on the charts, although the second, "Can The Can," hit the #1 spot in 1973. For the next few years, there was no stopping Suzi, who went on to conquer Europe, Japan, Australia and many other countries. In the U.S., Suzi achieved a fair amount of success and notoriety, although nothing like she was experiencing in her adopted homeland of England.
Dressed in leather, Suzi was double dynamite both as a killer vocalist and a great bass player. However, her Rock 'n' Roll attitude and short, '50s-influenced hits (some penned by Mike Chapman and Nicky Chinn) had critics and fans lumping her in with the then-fashionable Glam Rock scene. Though she may have shared some of the same musical influences, Suzi's musical output was a precursor to the Punk movement that would infiltrate the charts in the latter part of the '70s. Even after the Glam movement began fading away, Suzi was still releasing hits and became one of the first and most well-known female rockers in the world. Switching gears, Suzi moved into acting when she appeared as Leather Tuscadero on Happy Days, one of the most popular TV shows of the decade. Her appearances on the show between 1977 and 1979 were some of the highest rated and best remembered episodes of the series. Her singles and albums began selling in bigger numbers and she achieved her biggest U.S. hit in '78 with the infectious "Stumblin' In," a duet with Chris Norman, vocalist with Pop/Rock band Smokie.
Though her profile in the U.S. hasn't remained as high as it was during the late '70s, she has continued to be a successful recording artist and huge concert draw in other parts of the world. Not only has she become a Rock icon, she is responsible for kicking the doors open for a new breed of female rockers and has been extremely influential to artists like The Runaways – especially Joan Jett. Now celebrating her 50th year as a performer, Suzi is busier than ever. She has her own one-woman show that has received rave reviews across the board and has just released an extensive four CD box set entitled The Girl From Detroit City that spans her entire career from The Pleasure Seekers to her brand new single, "The Girl From Detroit City," penned and produced by her longtime friend and musical co-hort Mike Chapman. In celebration of this release, Stephen SPAZ Schnee chatted with Suzi about the box set, her celebrated 'Ego Room' of memorabilia and her five decades in the music business…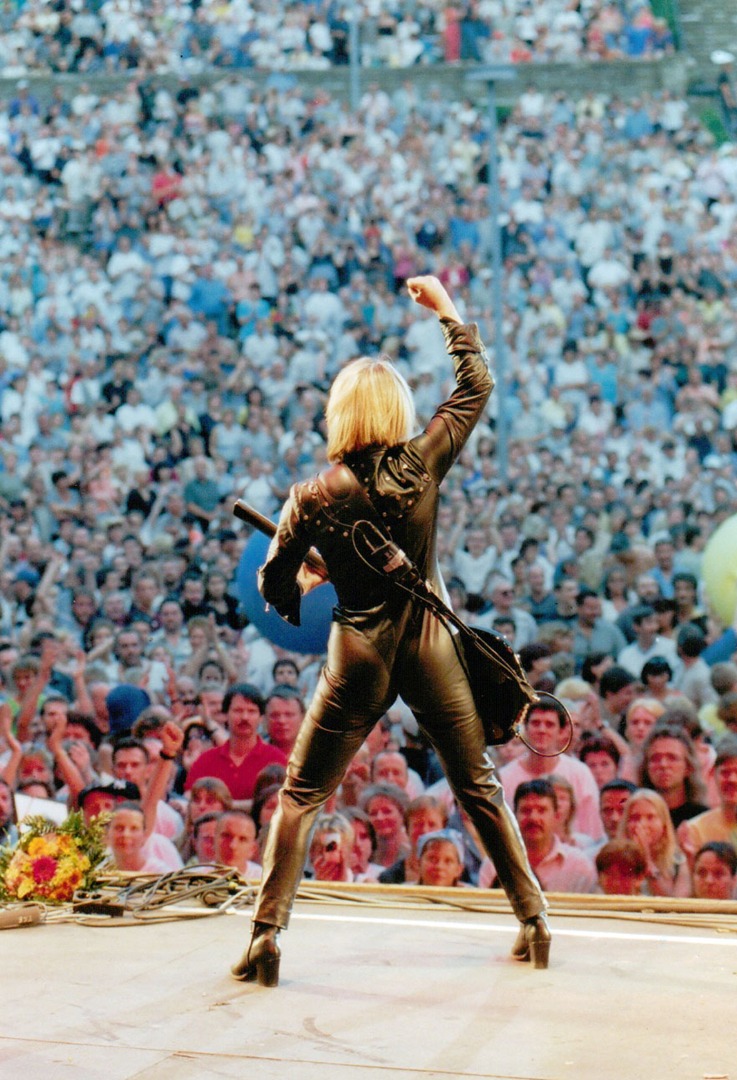 STEPHEN SPAZ SCHNEE: The Girl From Detroit City
box set is just about to be released. How are you feeling about the release and the journey you've taken to get here?
SUZI QUATRO:
Quite amazed (laughs). I mean, fifty years is a real milestone. You know, I say 50 years of greasy food, long white lines, changing in kitchens… you can go on and on… but wonderful, wonderful gigs.
SPAZ:
I think the new single, "Girl From Detroit City" is probably one of your best. It's got an amazing atmosphere to it, and obviously a great story behind it. Was that a song that was written specifically for the box?
SUZI:
It was. I'm glad you said that. I feel the same way too! And I was actually in tears when I recorded it because he (Mike Chapman) nailed my life story, didn't he? He knew it was for the box set and he said, "I just wanted to write your life" and he did. And it was so good that I insisted that they call the box set the same thing. Now, Mike would want me to say this – I put in the "dooo dooo dooo wah." When I put that little Motown backing vocal in, Mike said, "Okay, you know your stuff." (laughs) I kept saying, "Mike, Mike, I got this idea…" He said, "Go on." It really lifted that track.
SPAZ: I
t has such a great vibe to it. It's melodic, has a great groove, but it's almost got a spiritual feel to it.
SUZI:
It does. It's got something. I was in the studio, we were doing a couple other tracks, and he said, "Okay, I've nearly got this song done for you" and he just sat there at the console and he sang me the chorus. He said, "It's got a killer chorus" and he sang it. I went, "Oh my God, I'm hooked," and he said, "Now I just gotta go home and write the verse." (laughs) And it is a killer chorus.
SPAZ:
Well, it shows that both of you remain in tune with who you were and where you're going because there's still a road ahead.
SUZI:
Oh God, yes. And we're on the same page, Mike and I. We always have been. We work well together.
SPAZ:
The set begins with like tracks from The Pleasure Seekers. I think "Light Of Love" should have been an AM radio hit.
SUZI:
It's cute stuff and I love "Light Of Love." I think it's a better vocal for me. I love "What A Way To Die" because I think, when I hear it, I go "Oh my God, there's no question where I was going, even at fourteen." Can't you just hear the attitude in that? I mean, I was a rocker from day one.
SPAZ:
When you look over this track list, do you have specific memories of everything that you've recorded? Or does that only happen with like certain tracks?
SUZI:
You know, when I went to write my autobiography, Noddy Holder, lead singer of Slade, who's a good friend of mine, said, "Don't ever write it… because you remember everything." I'm not a sex, drugs, and Rock and Roll girl so I have a good memory. And I can pretty much remember every single track. I can remember recording. I can remember what it felt like. I can remember when I wrote it. And if you go by the liner notes – I'm very much hands on with everything.
SPAZ:
So you picked everything on the box?
SUZI:
Yes I did. I worked together with the company, of course. They suggested certain things and if I didn't like it, I said no. I had the absolute say-so on everything so we spent a lot of time up in my "Ego Room," here at the house. It didn't just fall into place. Some of the hits – that's the obvious stuff, you know? And then when it got to Disc 4, I wanted to have all that stuff that people haven't heard from me - some surprising things in there. I have a huge body of work. I'm a real prolific songwriter and I wanted to show that on here. Then of course you've got the wonderful "Desperado" with Jeff Beck. I called him up and I said, "I want you to play on this." He's a big fan of my radio show. I said, "I want you to play on this track, Jeff. All it is is piano and my vocal." He said, "Are you kidding?" I said, "No. What?" He said, "You mean I can play on a track and nothing gets in my way?" I said, "Yeah." He said, "Give it to me." So he did it. He's a nice man, and he's a great player, of course.
SPAZ:
I think that there are a lot of your records that have really been overlooked, especially here in the U.S. I think there are songs that could have been huge singles like "Heart Of Stone," "Main Attraction," and "I'll Walk Through The Fire With You."
SUZI:
We did sell a lot of albums in America. We did a lot of successful tours, but Mickie Most chopped and changed record companies with every single. And we didn't get that building up from one label, you know? But I had a huge hit with "Stumblin' In." Of course, Happy Days made me a household name there.
SPAZ:
FM radio over here used to play your live version of Tom Petty's "Breakdown."
SUZI:
Well, it's not on this box set. I didn't think that was a necessary one to put on, but I love that. Tom actually came to see me… it might've been at The Bottom Line in New York. He came to see me and the next day 12 red roses arrived, and he just said "Thank you for the plug every night. You're fantastic, love Tom." I thought it was really sweet.
SPAZ:
That's actually the first time that I had heard that song so when I hear the Tom Petty version, I go, "Oh, that Suzi Quatro song!"
SUZI:
You know which one I like? "Breaking Dishes." I like my version better than Rhianna's. She's excellent. I mean I'm not saying she's not great, but I like what I did with it.
SPAZ:
Just like your version of Abba's "Does Your Mother Know?" with Sweet's Andy Scott… you make it a Suzi Quatro song.
SUZI:
It's unbelievable. I mean, when they asked me to do this, I said sure, and then I had my doubts. I love Abba. How am I going to sing an Abba track? And then Andy showed me the feel in the studio and we started playing. I put the bass down. All of a sudden I went to sing it and it was my song. It's just attitude, I guess.
SPAZ:
Elvis was obviously the most significant musical inspiration when you were five, but have you found inspiration in other artists through your fifty year career?
SUZI:
Absolutely. The next guy that really, really took over for quite a long time, was Otis Redding. In the early days, I called myself Suzi Soul and I used to do his songs in the set. They became my big show numbers. In fact, in my one woman show, which I'd like to take to America, I just did it at the BBC and it was such a huge success, I can't tell you! I do "I've Been Loving You Too Long" and it's my favorite moment in the show because people don't know I can sing like that.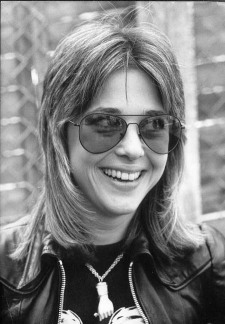 SPAZ:
You know, I think people are going to learn a lot through this box set. The Annie Get Your Gun stuff is fantastic. I didn't doubt that Suzi Quatro was going to sound good, but I didn't know how well you were going to fit into that, and it just seemed flawless.
SUZI:
Well, I have to tell you – Andrew Lloyd Weber was the one that got me that gig. He's a good, good friend of mine, and he came opening night, and he came backstage and he said, "You made me cry." And I said, "Why? Was I that bad?" He said, "No, when something is that good, I cry." And I went, "Oh." And he came to my one woman show just last week and he was in the second row and he was up and rocking and dancing in the aisles, I have to say, Mr. Lloyd Weber was. I was so proud. So proud that a writer of that caliber came along and enjoyed my show so much. And that's worth my fifty years. You know, I'll hang on that. That's nice, isn't it?
SPAZ:
You had your first taste of success during the Glam era and you were lumped into that whole scene. However, don't you feel that you had something more in common with the Punk bands that came a little later?
SUZI:
Oh, my God. That could be me talking. You read my mind. Yes. I never thought I was anywhere even close to Glam. That's not who I am. Not the way I look, not the way I sound, not the way I play, not my attitude. I see myself more as a forerunner of Punk.
SPAZ:
What drew you to the bass guitar?
SUZI:
Well, I'm a trained classical pianist and I'm a trained percussionist. I can read and write both instruments. And then in '64 when we started the band, everybody was screaming which instrument they wanted and my sister Patti said you're going to play bass. So I said, "Okay." I didn't care. And then my dad – I'm looking at it now as we're speaking – gave me the 1957 Fender Precision as my first bass. Now, I think that says a lot. I think that shows you that it's written in the stars that you're going to be a serious contender. I got the Rolls Royce of bass guitars given to me… everybody had these shitty little instruments….
SPAZ:
Like the Sears Silvertone, right?
SUZI:
Yeah, exactly. And I had the Fender Precision with the Fender Bassman amp. I mean, I was the queen. It's amazing. It's amazing. And it was a hard bass to master and I've got little hands, you know? And it taught me. It was like climbing a mountain learning that guitar.
SPAZ:
Have you ever thought of putting the Ego Room up on You Tube?
SUZI:
I should do that! It's gotten so much attention now. In fact, I'm going to the funeral tomorrow of a good friend of mine named Lynsey de Paul. She's a singer/songwriter from here (England). And we were talking and she had seen my other Ego Room, right? It was in a different place in the house. And I said, "Oh it's not there. I had to move it to a bigger place." She said, "Oh, so now it's the Inflated Ego Room?" I said, "Yes!" Great line. It's up on the third floor of the house all crooked up there, the ceiling comes down. You can bang your head. It's very precarious. You get to the door – a big heavy wooden door – and on it I had a little brass plate built, and it says "Ego Room, Mind Your Head." (laughs) And you go in there and there's everything. I mean everything. I have lost people up there.
SPAZ:
You've been referred to as one of the true pioneers of female rockers - and that is very significant compliment - but do you prefer to be just considered a rocker, gender be damned?
SUZI:
That is a double-edged sword. I have to be honest and say that even right at the very beginning when I was 14, I didn't really care about it being a girl band. I just wanted it to be a good band. And my sister Patti and I often talk about this. She had a thing about it being girls and I didn't care. And so, I am proud when I look back on it. I have very specific ideas about this. I was always determined to go down the path without anybody telling which road to take. That's me. Don't tell me what to do… you can suggest and then I'll decide. But I had my path marked out. I was ballsy. I put one leg here, one leg there. I played my bass. I rocked and rolled. I was always the same. And when it got to the point where somebody was going to kick the door down, there were a few of us around, you know, but nobody quite like me, it has to be said. And somebody was going to do it sooner or later, let's put it that way. There would be a female breaking through… that's in the cards – it's going to happen. And I think it fell on my shoulders because I don't do gender. I think it took somebody like me who didn't give a shit about being a girl. Just, "Hey – I'm doing this." This was the attitude that enabled the door to be kicked down.
I have had this discussion with a lot of famous guy musicians, and we have debated this. And I've said, "Is this all you see? Did I look like a girl trying to prove that I could be like the guys?" And they said, "No, you did not. You just were out there being natural." I said, "And did I look like I was trying to be sexy?" And they said, "No, you did not." Not trying to be sexy. There's a difference, you know? And I didn't even know… how stupid I am… I had no idea that the jumpsuit was going to be sexy. I said to Mickie Most – I'm wearing leather. That's it. And he said, "Okay." He gave in. He didn't want me to wear leather, but he gave in. Then he suggested the jumpsuit, and I remember saying to him, "Oh what a good idea, Mickie," and I had no idea. I just felt that I could jump around and everything would stay in one place, you know? And then when I got the pictures back I went "Oh…"
SPAZ:
No wonder he said yes.
SUZI:
Yeah, no wonder he said yes. Oh my God. I was so embarrassed in a way. You know, I'm not that way.
SPAZ:
Your biggest hit here in America is "Stumblin' In…"
SUZI:
Yeah, that was a million seller. It was in the charts for a long time. That's absolutely correct. The American audiences do know the other stuff, but that was the biggest hit.
SPAZ:
Was that pretty much a musical turning point for you in terms of kicking the doors down in America? This was actually post Happy Days, right?
SUZI:
Yes. It was post Happy Days. Once I did Happy Days, my name was there anyway. I received the second most fan letters after the Fonz, which I nearly died when I found that out. Yeah, that was a big thing for me to be in that. I still get recognized all over America from that show. "Stumblin' In" just happened to come out at that time. But, if you look at the chart positions in Billboard, the (earlier) songs did chart. They just didn't go real high.
SPAZ:
Which of your albums are your personal favorites?
SUZI: T
he first album (Suzi Quatro) I loved. It was mainly my own songs. I loved Suzi…and Other Four Letter Words. I thought that was a really good album. I liked If You Knew Suzi very much, and I think my favorite album is Back to the Drive because it's personal. It's autobiographical and the critics just went nuts over it. I never had such rave reviews… until In the Spotlight.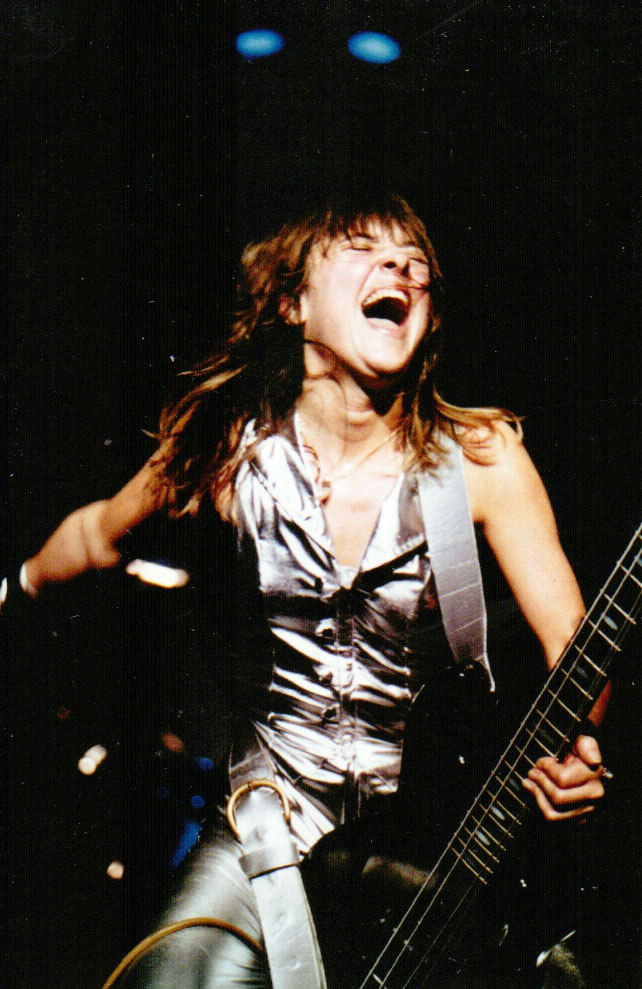 .
SPAZ:
Do you think that people are going to be really surprised when they hear this because there's just so much more than just the singles?
SUZI:
Yes, well, that's the whole point, isn't it? I mean, I wanted to show everything in this. I am a prolific writer. There are some damn good songs on there. I particularly like "If There Ever Was a Reason." I think it's the best song I ever wrote. I always wanted to do that as a duet with somebody.
SPAZ:
Even though I have the Suzi Quatro albums, I was still amazed at the variety. When you bring it all together like this, you just think – "Man, there's a reason why she's around fifty years later."
SUZI:
Let's put it this way: Rock and Roll is my home… and my bass and my leather – that's where I sit. That's where I zip up my suit and I'm away, but within that there is an artist and I am a real artist. And I do spread my wings here, and I do spread my wings there, and I do write all kinds of songs, and I do act in movies, and I do act in stage musicals, and I have a poetry book coming out in January, and I'm what I like to call … I think I'm an all around entertainer, but based in Rock and Roll. I'm an artist in the truest sense of the word. In fact, I'm working on a song as we speak. I always need to be creating.
SPAZ:
Now, what's next for Suzi Quatro?
SUZI:
Well, we have a super group that I can't talk about yet, but it'll be soon that we can talk about it. Maybe in about three months. We've got five tracks down, three of us. It's pretty exciting. I don't want to say what the name of it is or who the people are yet, but it's an exciting project – something we've all wanted to do for a long time and now it felt like that right time.
Special thanks to Matthew Ingham, Dana House and Nick Kominitsky
THE GIRL FROM DETROIT CITY